HC11 Home Air Cleaner
April 1, 2020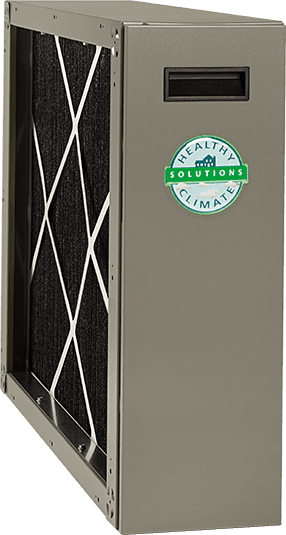 CARBON CLEAN 16 Media Air Cleaner
April 1, 2020
Description
Details
| | |
| --- | --- |
| Minimum Efficiency Reporting Value (MERV) | Equivalent to MERV-17 (not MERV rated) |
| Filtration Levels: Hospital Grade | |
| Filtration Levels: Particles | 99.97% efficient in removing down to .3 micron |
| Filtration Levels: Bioaerosols | 99.97% efficient in removing down to .3 micron |
| Whole-Home Application | |
| Ozone | No ozone emissions; Ozone destruction with optional carbon canister |
| HVAC System Compatibility | All HVAC system types |
| Filter Life | Carbon pre-filter: 12 months; HEPA filter: 2 to 5 Years; Inner carbon filter: 3 months; Optional coconut shell carbon canister: 1 Year |
| PCO Cartridge Life | Not Applicable |
| Lamp Life | Not Applicable |
| Electrical Rating | 120V-60hz-1ph; 125 watts |
| Replacement Filter Options | Optional carbon filtration – 3lb carbon HEPA-20; 6lb carbon HEPA-40 and HEPA-60; 30lb carbon HEPA-40 and HEPA-60 |
| Warranty | 5-Year Limited Warranty on covered components |
Features
Hospital-grade filtration that works great in your home
A Healthy Climate® HEPA system is capable of removing nearly all allergy-aggravating contaminants, including some of the smallest particles and bacteria.
True HEPA performance
"True HEPA" means the system uses filtration that's equivalent to MERV 16 and higher, and has been tested to industry standards.
Keeps contaminants contained
The sealed design of the HEPA system prevents particles from bypassing the filter and recirculating in your home. An insulated cabinet prevents condensation.
Easily integrates with your heating and cooling system
The Healthy Climate® HEPA system is designed for easy integration with all heating and cooling systems. And unlike standard one-inch filters found at retail home stores, it provides powerful filtration without restricting your system's airflow.